Packaging Industry Veteran Uses
Marketing
Industry Knowledge
to Help OEMs Grow
Have you ever wondered what it's like to work at KG and what motivates us? Each month, we share the inside story of one of our team members to give you the scoop on what's new and next in marketing and trade shows.
This month, we're kicking off the series with an interview with our President and Co-Founder, Ray Kondracki. Ray talks candidly about his start in the packaging industry, why he loves working in marketing and trade shows, and what 'big' things are next.
--------------------------------------------------------------------------------------------
Q: How and when did you get started in the packaging industry?
It all started in 1993 when I was looking for a summer job during high school. My Mom was working at Triangle Package Machinery at the time and was able to get me in doing odd jobs. Over several summers at Triangle, all the way through college, I was fortunate to gain experience in various areas including making sample bags for customers, picking parts orders in the stock room, helping convert to a new ERP system (aka data entry ALL summer long!) and eventually - marketing.
Q: What made you ultimately choose a career path in marketing and trade shows?
I took some college courses in marketing around the same time Triangle was looking for additional help in that department. Upon graduation, I had a full-time job at Triangle waiting for me. Shortly after, I was given the task of running PACK EXPO Las Vegas on my own. I remember that like it was yesterday. That's where I was when 9/11 happened. Although that was a tragedy that ended my first trade show early, I also became hooked on trade shows. I love seeing things go from a cement floor to a finished booth in just five or six days. Experiencing the look on the client's face when they see their machines in lights is priceless.
Q: What was your mission when you started Kondracki Group?
Our mission was to help packaging OEMs with their marketing efforts. More specifically, those who knew they needed marketing help, but just weren't sure where to start. Jennie (my wife and business partner) and I saw an opportunity to build on our combined packaging and marketing experience as well as utilize the contacts and industry knowledge we've gained throughout our careers.
Q: What do you find most rewarding about your work?
Seeing customers smile. And seeing their brands and businesses grow...which leads them to smile! It's really that simple. They trust our team to build their brands and navigate the complex marketing web. When we do that successfully, our entire team builds client trust, further strengthening our partnerships.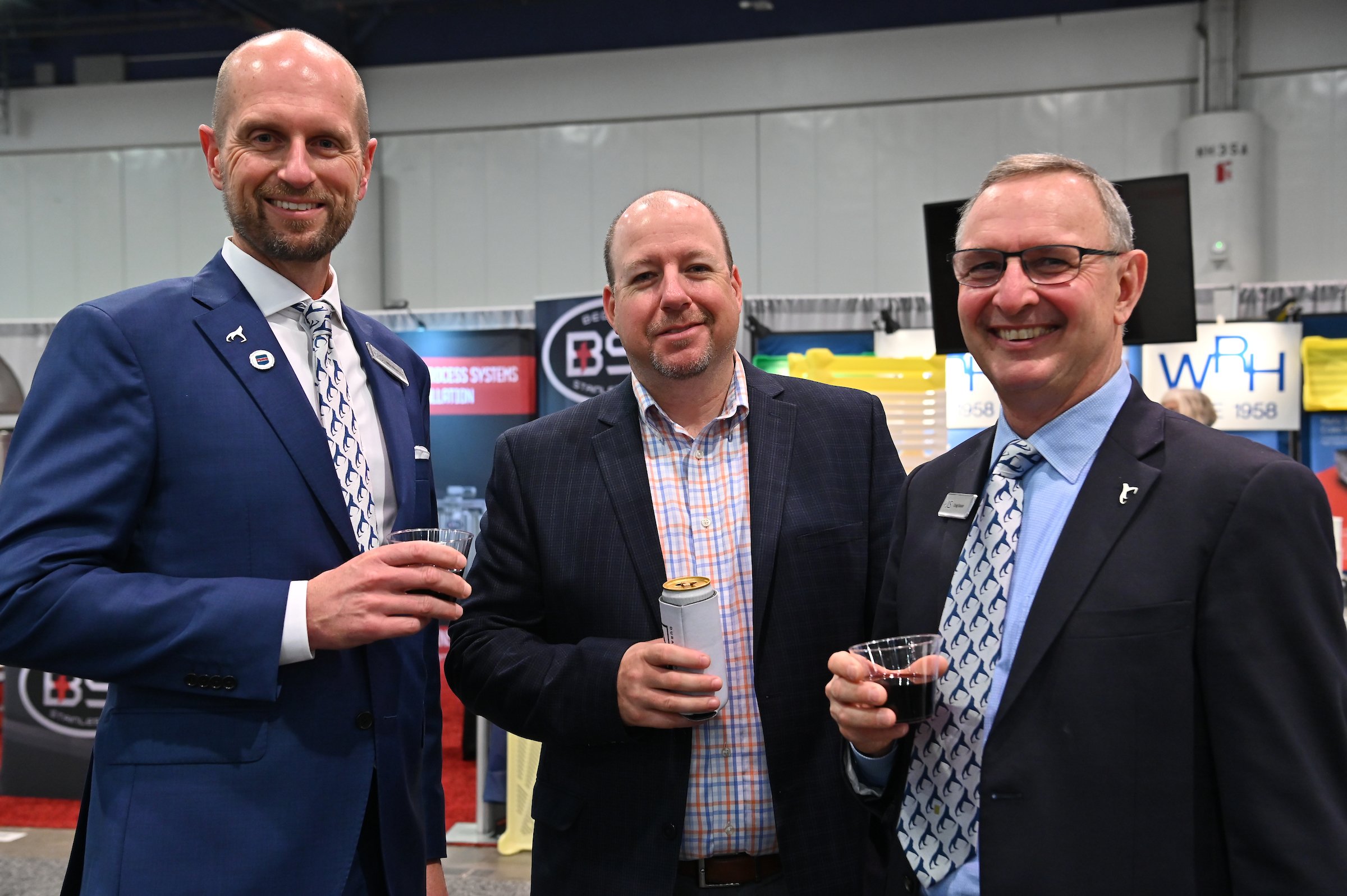 JLS®'s Mike Newcome (left) and Craig Souser (right) cheers with Ray to a successful 2021 PACK EXPO.
Q: What do you love most about working in the packaging industry?
The people and the relationships. We've built some close ones over the years, whether it's clients, media or industry colleagues in general. There's never a dull moment.
Q: What's your favorite thing about working on the team you've built at Kondracki Group?
In my last stint as a baseball coach, I served as a pitching coach and recruiting coordinator at the College of DuPage, a junior college in Illinois. I really enjoyed the recruiting aspect and helping build the team. Finding the right pieces as players graduated or went on to 4-year schools was always a fun challenge. The same applies here at KG. I enjoy the challenge of putting a winning team together. Watching our team grow and perform together – that's my favorite thing about our KG team. Our team comes from different backgrounds with different perspectives, and it's fun and rewarding when those backgrounds mesh together to ultimately produce great work for our clients.
Q: What are some of the biggest changes that you've observed in marketing since you started the business in 2014?
Digital for sure. During my first marketing stint at Triangle, I used to pass out "Interoffice Memos". Literally putting actual printouts into people's physical inboxes. Yes, people had actual boxes on their desks for mail and memos! Our first website was 3 pages...homepage, products page and a contact form. Social media did not exist...or maybe in some early form (MySpace, Facebook, etc). Regardless, social was 'never' going to be used for business if you asked anyone. Today, if you are not utilizing digital, you are way behind the times. It's a lot to keep up with and navigate, but it's an area that our clients can turn to us to help navigate and make sense of.
Q: How about trade shows? What things have changed in the past 9 years?
The sizes of booths and technology have changed. We have seen our own clients increase their booth sizes over the years. Having a bigger presence and displaying more equipment has driven that. We are seeing bigger TVs, interactive / touchscreens, and even LED video walls to help gain the attention of attendees. Things such as backlit logos on walls or reception desks, and lighting within the machines are all being used more so than in the past. They are all great ways to attract attention and help booths stand out on the show floor, which can sometimes look like a sea of sameness.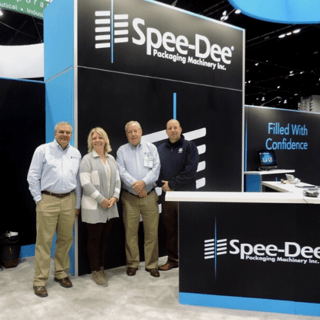 Spee-Dee®'s Dave Navin (left) and Timm Johnson (middle right) proudly pose for pictures with Ray and Jennie at PACK EXPO 2018.
Q: What do you think will be the next 'big' thing in marketing and trade shows?
I think the next 'big' thing is getting back to basics and keeping it simple. We have seen virtual machine walk-throughs, AI is starting to creep in, and other interactive-type tools have gained popularity. But my gut says it will just create more noise and confusion on what to focus on. Not all marketing tools are going to work for everyone. In response to this, we're going to see companies focusing on a handful of marketing activities that they do well or work for them. You'll see companies simplifying their efforts, focusing on stronger messaging that resonates with end-users. Marketing doesn't have to be complicated.
Stay tuned for next month's blog, which will feature our Vice President, Jennie Kondracki!